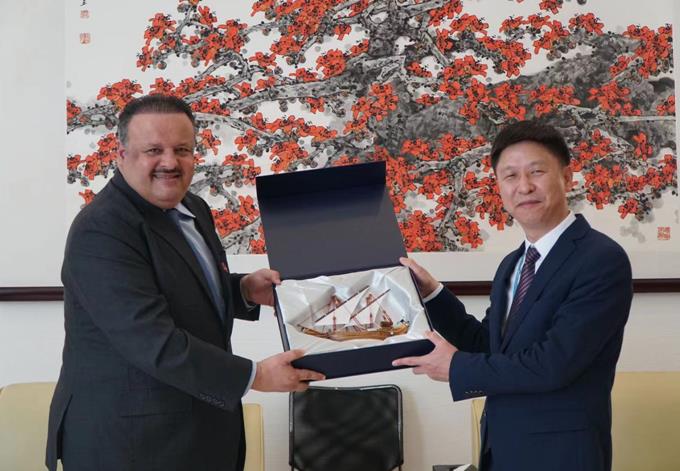 On the afternoon of September 30, 2021, Mr. Khalifa Mohammed Alkhorafi, the Consul General of the Consulate General of the State of Kuwait in Guangzhou, met with Mr. Fang Jiazhong, the Director of the Guangzhou Library, in the reception hall of the Guangzhou Library, where the two sides discussed strengthening cooperation in the cultural and literary fields between China and Kuwait.
Mr. Alkhorafi proposed to set up a special area of Kuwait in the Guangzhou Library to promote cultural cooperation between the two countries and consolidate the friendship between the two peoples, while attracting Chinese readers to read and learn more about Kuwait's history, culture, civilization, national heritage, social and economic. Mr. Alkhorafi expressed the hope that after the epidemic, the Guangzhou Library and the National Library of Kuwait can conduct mutual visits to learn China's advanced technology to help collect, organize and preserve various cultural heritages and ideological creations. In addition, Mr. Alkhorafi also recommended the translation of more Chinese cultural and literary works.
Mr. Fang Jiazhong welcomed the Consul General's visit and expressed his appreciation for the idea of setting up a special area of Kuwait. He promised to coordinate and cooperate with relevant departments to put this idea into practice.